By:  Erin Walker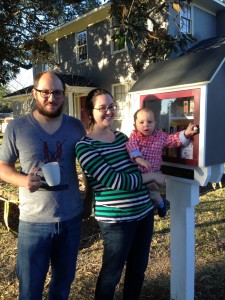 I read about Little Free Libraries in a local newspaper and fell in love with the idea. The basic concept is that a Little Free Library belongs to the community, and anyone can take or donate a book. When you're finished with the book you can return it to any LFL location around the world or pass it on to a friend.
The first decision was where to put it. People locate their LFLs near their church, school, home, or place of business. We decided to place ours in our front yard because our house is located at the entrance of our neighborhood and faces a street with lots of pedestrian traffic, so we thought our Little Free Library would be used by neighbors and passersby. Having it at our house also makes it easy to maintain, and it's fun check out the latest activity!
Next, the design: there are so many possibilities for how to design your library! You can buy a pre-made one from littlefreelibrary.org, use their plans to make your own, or create your own unique design. My dad built ours from plans on the LFL website and painted it to look like our house.
Choosing books: some LFLs have a specific theme, like children's books or hobby books, but we live in an eclectic neighborhood with young families, retirees, college professors, and lots of college students walking by, so we filled our LFL with a variety of books. We included novels, travel books, hobby books, children's books, etc. We'll keep an eye out for what kinds of books people seem to like and try to stock more of those types of books. We're also planning to have a party to invite friends and neighbors to visit our LFL and bring a buck and a book to help keep it stocked.
Before placing the books in our LFL we imprinted each one with our special LFL seal (ordered from http://www.littlefreelibrary.org) so that when the books are passed on people can see where they came from. We couldn't imprint the thick pages of children's board books, so we just placed a sticker inside those.
We also placed a notebook in our LFL for people to write comments, suggestions, reviews, and requests.  Reading the notebook is a fun way to feel connected to the people who enjoy our LFL.
To teach people about our LFL we posted our LFL plaque and some basic instructions, and I printed fliers with more detailed instructions and placed them inside the library for those who wanted to know more.
We also registered it at LittleFreeLibrary.org so people can search for it.
During the installation several neighbors stopped by to ask what it was and offer to donate books.
A few hours later we went outside to admire our LFL and noticed that someone had already donated a book!  It's exciting to walk outside and see what people have taken from and added to the library. I'm looking forward to when my son is old enough to choose books to donate to and borrow from the library. For now he just has fun opening and closing the door.
If you're in the Baton Rouge area stop by or visit our Facebook page at Walker Little Free Library.
Erin Walker is a teacher, Industrial/Organizational Psychologist, and soon to be stay at home mom. She earned her B.S. in Psychology and Sociology from Louisiana State University and her M.A. and Ph.D. in Industrial/Organizational Psychology from University of South Florida. She's taught at University of South Florida in Tampa, FL; Saint Joseph's School in Shreveport, LA; and Catholic High School, Saint Joseph's Academy, and Louisiana State University in Baton Rouge, LA. She currently works as a Selection Consultant in the telecommunications industry. She lives with her husband, 15 month old son, and two dogs, and is expecting a baby girl in July. She very occasionally blogs at firstyoumakearoux.typepad.com.