Head's up!  Father's day is THIS WEEKEND, not next like I kept telling myself.  My son had this brilliant idea to buy my husband some outdoor speakers for Father's Day, which I really thought was a great idea (something I would enjoy too), but have you checked out the prices for those babies?  Yeah – it's like the cost of formula for a year.  Not gonna happen.
Keep on brainstorming… Well, one thing my husband and I have always wanted is a rain chain… especially the copper ones that hang from beautiful, expensive copper gutters that we don't have (as seen here in this video).  And those can be upwards of $100 or more… also not going to happen.
So, I decided that we are going to forego the pretty copper and make our own!  And I always say, "who can resist something handmade by kids?"  Let's take a zero off of that $100 and make something similar for $10!
Supplies:  6 or more small terra cotta pots, 2 – 36″ extender chains for hanging planters
My kids and I picked up these small terra cotta pots from the Dollar General for $1 each.  They thought these were beautiful with the flowers painted on them… but I thought "eek!"  we can paint that… which they were ok with since I mentioned they would be the ones painting them.
We bought 6 of them (because that's what they had) and it makes a pretty decent length for a rain chain in my opinion.  We also purchased 36″ extender chains for hanging planters from the Dollar General which was $1.50… so we got 2 of them and got to work!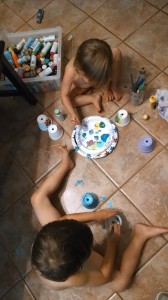 Make sure that your pots have holes in the bottom because that is essential for this project for the chain to go through, and for the water to drain as well (because this is also a functional project).
The chain links are supposed to be bigger than the hole so your pots do not slip down the chain.  But how do you get the chain through the hole?
Using pliers I removed the link where I wanted my pot to rest.  I took that link and squished one side down which was the perfect size to go through the pot.
I put about 5-6 links between one pot and the next.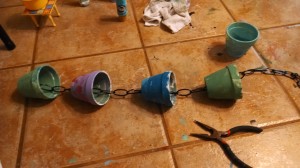 Then my kids wanted to do some more painting so I let them have at it 🙂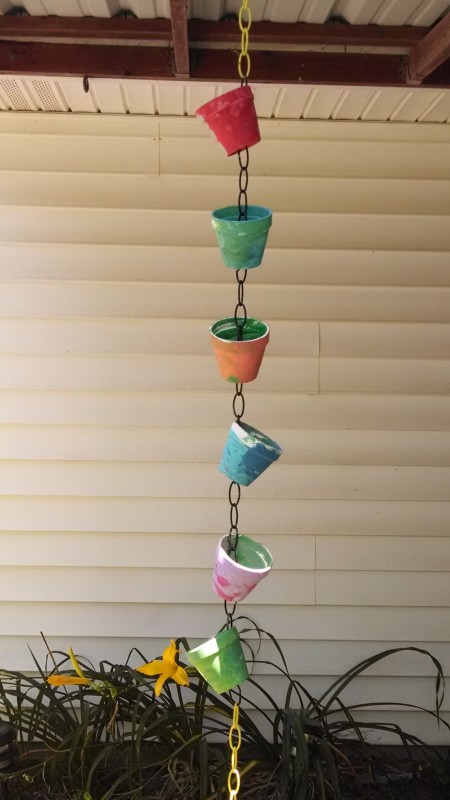 This project probably took us about 30 minutes.  I will probably also get a large saucer and put some river rocks in it to collect water on the ground.  A nice little . to the !  (But then this would be more than a $10 project).
Extra:  Extra tip means extra $$.  If you want to seal the paint, use a clear matte acrylic spray paint that you can find at stores that sell spray paint (Walmart, Home Depot, Hobby Lobby, etc.).
Happy Fathers Day to all of you Daddy Teachers and to all the Mommy Teachers who play both roles!