Oh, so many uses for such a simple pumpkin template.  Yes, I have yet another use for that simple pdf that I made by copying a pumpkin di-cut, and todays activity idea develops social-emotional skills and reading skills.
All you need to do is print the template, talk with your little ones about feelings that we have and brainstorm a list of them (sad, mad, silly, happy, etc.).  Then, try to make a Jack-O-Lantern expression that matches that emotion.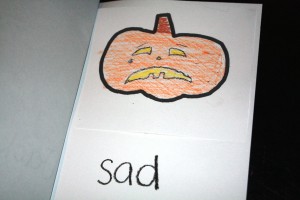 After doing that, cut them out, have your little one try to help you write the word that sounds out that feeling "/s//a//d/" and put all the jack's together to make a book.  Give it a title and tah-dah, you have a Book about Jack.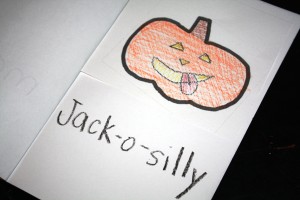 Accomodate each page description with whatever your little one is capable of or interested in.  Your little one might like a more creative description under each jack expression like "Jack-O-Silly"  or your little one might want to make a repetitive book that says "Jack is…" on each page.  Let your little one make it his/her own!