Hi! We are so glad you are here!
Jessica and Casey are two like-minded moms with backgrounds in Early Childhood Education.  We want everything you see on this site to be "doable" and "practical" take-aways.  We want you to get inspiration to purpose your days as a parent (or guardian) without feeling like all of your days blur together.
We are moms who like to supplement teaching opportunities as often as we can.  Though we aren't "homeschooling moms," we have a lot of insight and materials for moms who spend the majority of their days teaching their children.
We love to share our experiences in mommy-teaching by providing insight, dialogue, teaching tips, resources, and more.  We hope that you will join us in this journey to make every day fun and meaningful for your little ones.
The Mommy Teacher motto "Schooling parents to teach their children; one activity at a time" is our goal.  So, we hope you will feel comfortable enough to learn as you go and take it ONE activity at a time!
A little bit more about us…
My name is Jessica, Founder of TheMommyTeacher.com.  I am grateful Wife, a Mom of 3 little ones, and I am also a Teacher… who loves all things Early Childhood.
I taught kindergarten until the day I had my son (literally!); he wasn't even 1 month old when I turned a spare room in our house into a classroom. I think my husband might have been too afraid of my hormones to discourage me from teaching.
Even with a newborn at home, I started teaching my friend's kids every week during nap times.
I soon discovered that as much as I loved teaching little kids, I loved teaching my friends.  It was so rewarding sharing insight, tips, activities, and resources with my stay-at-home mom friends.  They wanted clues to teach their little ones all the skills they need to read, write, and the like.  After many months of sharing ideas, activities and teaching strategies with my friends for their children, I decided to put daily tips and activities online so that every parent could feel equipped and encouraged to be more intentional if that is their desire.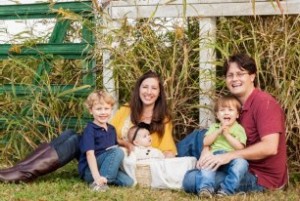 My name is Casey.  I am a wife and stay-at-home mom of 3 – two big blues and a baby pink.
Before I was a SAHM, I taught Pre-K and Kindergarten in inner city Los Angeles and facilitated parent education classes for my students' parents, covering topics such as motor skill development, reading comprehension, math skills, cross-curricular activities, health and nutrition, how to help with homework, how to volunteer in the classroom and more.
Since then I have been a mentor to Pre-K and Kindergarten teachers, have served on the board for the development of a charter school, currently volunteer in my son's Kindergarten class, and serve along side my husband as a large group leader for K/1 and 2nd/3rd grades at our church – I just can't seem to completely walk away from the classroom!
As a former parent educator and current mom myself, I understand how the demands of juggling all the different mommy hats can sometimes leave little room for planned learning activities in our daily routines.
My experiences as an early childhood educator helped me understand how to incorporate social, emotional, physical, linguistic and academic education into my daily interactions with my own children and I am so excited to share our adventures with you, Mommy Teachers!
 I am passionate about teaching you about teaching your child – helping you challenge your child through short, simple and inexpensive learning activities – and giving you the know-how to get your child ready for school!