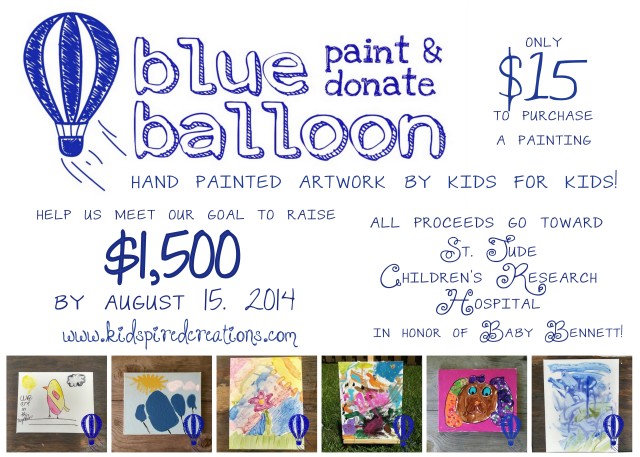 Jessica and I are both Momprenuers that juggle both the lifestyles of stay-at-home moms and working moms.  My art and design business, Kidspired Creations, went on an exciting and unexpected journey this summer that has, to say the least, made it especially hard to find time to blog (my deepest apologies).  But let me tell you a little bit about what has been going on and about how we have been giving back to an amazing organization called St. Jude Children's Research Hospital – perhaps you've heard of it?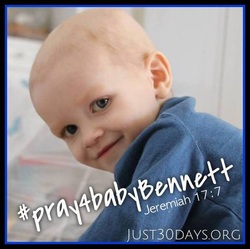 This is Bennett.  His story has touched thousands of lives and counting!  In December 2013, the Coleman family began an unexpected journey as Bennett, just 17 months old at the time, was diagnosed with a rare and aggressive form of cancer.  He was admitted to St. Jude Children's Research Hospital in Memphis for treatment where he and his family spent the last few months of his life here on earth. On april 28, 2014, the cancer died and Bennett began his new life, healed, happy and free of pain in heaven.  The staff, nurses, doctors, patients and families at St. Jude are incredible and held the hands of the Coleman family all the way…
Being close friends with the Colemans, my business partner, Brooke, and I shared updates about Bennett with our kids.  They learned all about St. Jude, cancer research and treatment, and the wonderful care that the organization provides families free of charge!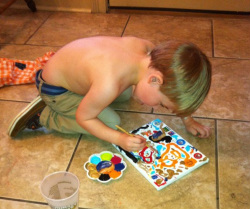 Brooke's son Cooper, age 4, decided that he wanted to raise money for Baby Bennett.  He said, "I love God.  I love to paint.  And I love Bennett."  He asked his mom to help him sell some paintings so he could donate the money to St. Jude.  Brooke started a Facebook page, Cooper Paints, to document Cooper's donation efforts and art endeavors…
…and this got Brooke and I thinking… thinking about how much our kids enjoy painting… and how beautiful each creation is… and how more kids would probably like to do what Cooper is doing… and who can resist a beautiful piece of artwork made with love from a child?
And thus, Blue Balloon was born – named for the blue balloons that family, friends and prayer warriors have released to celebrate Bennett's life. Here, child artists can donate paintings to sell and the proceeds will go to St. Jude Children's Research Hospital in honor of Bennett Coleman.
Cooper and his friends have created true KIDspired art!  Each 8″x10″ piece was hand-painted with love and is available for purchase HERE for $15.
This summer, Blue Balloon has been blessed by our community here in Lafayette, Louisiana. We were given space to host a Paint and Donate station at the Mommy & Me Expo in June where nearly 60 kids donated their time and talents to make and sell artwork for St. Jude!
We then were invited to sell those paintings at Applause for a Cause, a play, also benefiting St. Jude, and the organizers of the Baby & Kidz Expo donated booth space for us to sell paintings at their super successful event as well.
Many businesses around the area donated materials and services for Blue Balloon to participate in these events!  Many thanks to Office Depot and Lowe's of New Iberia and Michael's Arts and Crafts and Super-1 Foods of Lafayette for donating art and cleanup supplies.  Also, to Kidz 337 Magazine for donating ad and article space and Kelsey Ann Photography for providing professional promotional pictures!
With the help of these businesses and events, our high school volunteers, child artists ages 1 to 16 years old, and including the auctioned artwork that raised $200 at Bennett's Bash in Lafayette, Blue Balloon has raised over $1300 for St. Jude!  More than $300 over our original goal!
So, now we have a new goal!
We are hoping to raise $1500 by August 15, 2014!  For just $15 you can purchase a painting and help us meet our new goal!  Your entire $15 will be donated to St. Jude Children's Research Hospital to help toward research, treatment and care for patients and families as they battle this horrible disease.  St. Jude operates solely on donations and at no cost to the families so they can focus 100% on their loved ones.
Please visit our Storenvy shop to view the Blue Balloon collection and purchase a painting for just $15!
To read all about Bennett and the Coleman family, you can follow them on Facebook and #pray4babybennett.  If you would like to make a donation to St. Jude Children's Research Hospital, please visit http://www.stjude.org.
Kidspired Creations and The Mommy Teacher remains inspired by the next generation of artists who give back!  If your child would like to donate artwork, please e-mail me at casey@kidspiredcreations.com or Brooke at brooke@kidspiredcreations.com!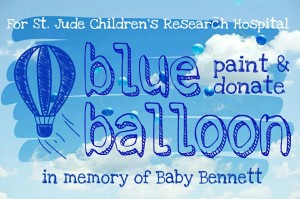 In memory of our buddy Bennett, Little Blessed One…
"Blessed is the man who trusts int he Lord, whose confidence is in Him."  Jeremiah 17:7