I have been waiting and waiting for the chance to write to you about an extremely cool teaching tool for literacy that is one of my new "favorite things!"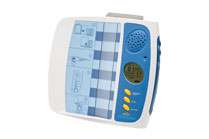 The Bookworm is a switch-adapted device by AbleNet that is used to turn nearly any book into an interactive listening book. It conveniently hooks onto the back cover of any book and is easy to use once it is set up.
 When I first received the Bookworm in the packaging I was intimidated at how high-tech it looked, but after watching the tutorial video, it made all too much sense. It is so practical (and fun!) to record each page while using the corresponding stickers provided with the Bookworm materials.
Children learn and practice so many skills by spending time alone with a book that has the print recorded. Of course you want to model reading these books first, but then your little one will know how to follow along and can process so much this way. I had a listening center in my classroom and now I have one in my home thanks to the Bookworm! Here's an idea of SOME of the skills your little one COULD be practicing with a bookworm:
~Demonstrating understanding of book and print concepts
~Following along with print and a story line being read aloud
~Processing information read orally
~Building oral vocabulary
~Developing Reading Comprehension
In addition to the educational aspect I have some "happy mommy" bonus features:
You can plug in some headphones and occupy your little one at church, in the car, in waiting rooms, and other places when or if you want to "keep the peace." I have been recording ABC books, Number books, Color Naming Books, Rhyming Books, and Shape Books because that is the oral vocabulary I am currently working on with my son, but you might want to record books that focus more on reading comprehension….you decide! 🙂
Grandparents pay tons of money to personalize and record their voices on just one book, but now you can maximize the effect with an instrument that has the memory to record several books.
If you think this device is cool, you have got to check out the AbleNet online store! They have SO many resources that accommodate to so many learning styles. I am glad I found out about AbleNet!