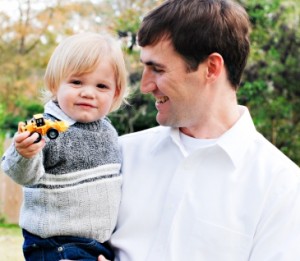 Sean Patrick is OBSESSED with construction equipment (specifically backhoe's, dump trucks, and bulldozers); so, I spend a lot of time teaching him the skills that he is ready to learn and to practice using his own interests. He also loves sports and animals, which I use to teach him as well, but today I want to focus on sharing some of the methods to my madness.
A couple months ago there was a construction crew working right outside of our house and after observing the crew operating the equipment and learning the names of the equipment and their functions (digging, lifting, dumping, etc.), he was hooked.
We have so much fun "studying" this topic while learning and practicing different skills:
We draw the machines with chalk outside and with crayons inside as I write the words – I name the letters and I emphasize the first sound in each word (just the beginning sound /b/ /b/ bulldozer!) as I write each one.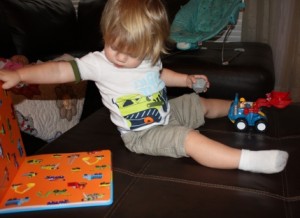 We have about 4 books about construction that I keep in an easily accessible book bin in the den.  He pulls them out on a regular basis and asks me to "Read please."  Or, I pull the books out when we play with his toys or see construction workers to reference similarities in the books and in his real world. (Notice his shirt in the picture?…he has 4 different outfits that revolve around this interest and we even have a plate that he eats off of every day with a backhoe on it).
We play with the machines, rolling them along different surfaces – teaching him that they roll faster down a ramp than pushing them along the flat or bumpy ground (a science skill).
We count how many different machines we have or how many rocks his mini digger can pick up at one time.  We look for and point out the machines on the way to church so next time we can count out how many machines we see on our way.
I teach him how to operate the levers on his digger and bulldozer toys to develop his fine motor skills for pre-writing readiness.
And much more!
 Just yesterday, there was another construction crew two houses down from my house working on a leak.  I took him to observe and I talked to him about the construction crew by identifying the driver and the clothing he was wearing (a hard hat, vest, boots, etc.) – These are social studies skills for young children to identify community workers and to gain awareness of the world around them.
There are so many ways to make learning fun and interesting for your little one using what you already have on hand!