I really love the Busy Bag exchange!  Getting a bag full of age-appropriate activities is exciting, but, it helps to have some direction.  A bag of activities will only take your little one as far as you LEAD them.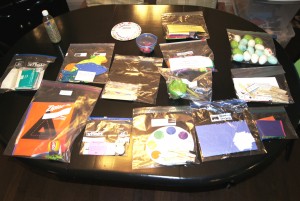 There might be instructions on some of the activities, but I wanted to add my step-by-step teaching tips because otherwise your little one simply has something to occupy their time (which isn't all bad! I am a mommy too remember?) BUT you also have a great teaching opportunity….to meet your little one in his/her zone of proximal development.  Wait what?  Basically….a chance to tap into their prior understandings, engage with their working memory, and BUILD onto what they already know.
I joked with my girlfriends the other night at dinner about one of the activities in the mix because it seemed almost too open-ended to even figure out what it's purpose was.  But open-ended materials can leave room for some of the most organic learning experiences, and it has many purposes for more ages than the suggested age.
Lets begin with the Pom Pom Activity
1) I started by letting my little one investigate on his own so I could observe what observations he was making and so he could just get his curiousity out before I started something slightly more structured.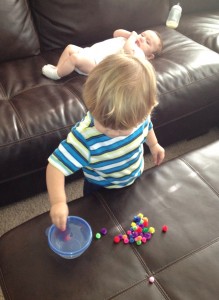 2) We talked about the colors (sorting them into groups for a better visual). We talked about how soft they were (texture).  We talked about how they were little (size). We talked about how there were a lot of pom poms and tried to count them (one by one correspondence) as we put them inside the tupperware.
3) We pretended we were little crawfish and used our pinchers to pick up the pom poms.  "Oooh, lets put the red ones in first!" (Pre-writing in mind….proper pencil grip!)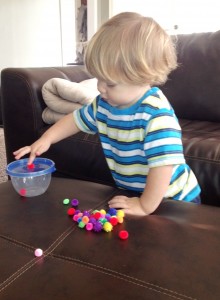 4) We practiced pushing them the pom poms in the hole with just our "pointer finger" and then just our "thumb" and later we were silly trying to push it in with our pinky finger.
5) Finally, we practiced taking turns and Sean Patrick had a blast racing me to push my pom pom in on my turn.
If you have older ones….accommodate and adapt the activity to fit what your little one is working on….estimation, graphing, or adding. You probably have the materials just lying around your house so it is too easy not to get it together.
So, my encouragement is not to take activities at face value EVEN IF the picture of the activity SEEMS self-explanitory.