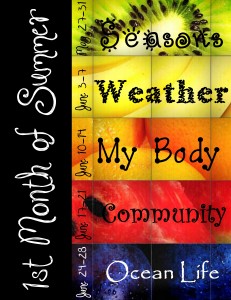 Summer break is about halfway over here in Louisiana!  If you are just now joining our summer quest to never hear the phrase, "I'm bored," please go back and read Part 1 and Part 2 of our summer learning curriculum and activity schedule.  On the right hand column, you will see all of the summer schedule posts neatly organized for you to have quick access!
WEEK 5:  OCEAN LIFE
So I apologize for the delay in the post about Ocean Life. I'd love to give you my reasons (my computer crashed so I'm having to sneak around to borrow one and we went on a vacation) but no one wants to hear those!
The kids had a great time learning about Ocean Life despite the fact that they never really showed too much interest in Finding Nemo – I've tried… what's not to like about it?  But as you all know, kids tend to have their own opinions about things no matter how much we try to mold their little minds ;-).
A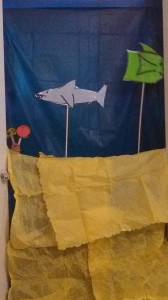 nywho, our favorite activity from the week was our Ocean Life PUPPET THEATER!  This activity was super cheap and was instant entertainment for DAYS!  It is also a great way to encourage storytelling which increases skills in reading comprehension, writing and illustrating stories (this skill starts as early as kindergarten) and oral communication.
Materials:
Painters Tape, poster board, scissors, long skewers/craft sticks, 1 blue and 1 yellow plastic table cloth, black sharpie marker
To make the puppets, I used a foam board.  YOU, however, should NOT use a foam board.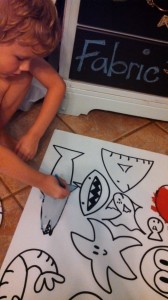 That sucker was a pain to cut out all of the fishy shapes with all of the twists and turns.  I ended up breaking most of the fish when cutting them out and had to play "doctor" to fix them all back together (great tie-in to our Community lesson).  Just use 1 white poster board and it will save you time, energy, and unnecessary frustration.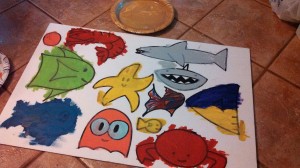 I drew the fish onto my board using a black sharpie.  The kids painted the fish and then went down for their naps (good timing on my part so they didn't have to wait for the paint to dry).  I cut the fish out and taped the long skewers to the back of the fish.  (I ran out of skewers and used Popsicle sticks for the starfish, crab and crawfish* since they don't swim too far from the bottom of the ocean anyway).
*I understand that crawfish are not normally found in the ocean, but as they have been raised in South Louisiana, my kids insisted we have a crawfish in our puppet show.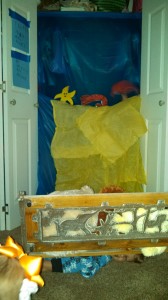 After nap time, the kids could not WAIT to put on the puppet show!  My daughter's room was the PERFECT theater because 1. she had the audience (stuffed animals galore) and what show would be complete without an audience? and 2. her closet made the perfect stage for the show!
We took the blue table cloth and hung it with tape from the clothes rod, and the 2nd table cloth (we used blue and taped yellow tissue paper to make "sand" but just using a yellow table cloth would be so much easier) was taped across the doorway of the closet at door knob level. This gave the kids enough space to crouch under and behind the yellow (sand) curtain and in front of the blue (ocean) curtain.
James had the idea to make a sign with the title and performers names and hung it on the closet doors for all of the audience (stuffed animals) to see.  He also had the idea to use one of our lamps as the spotlight and designated his Mimi to be the lighting technician.
There are several different ways you can perform plays with your kids!
1.  REENACTMENT:  You can take a story that your kids know really well (a great one for this theme would be The Rainbow Fish or even Finding Nemo) and  your kids can reenact the story.  To simplify this, you can make sequencing cards for your kids to act out:
1.  Nemo and his dad lived in an anemone.

2.  Nemo swims out to sea and is captured by the scuba diver.

3.  Nemo's dad and Dori search for Nemo and meet a lot of friends on the way.

4.  Nemo makes his great escape.

5.  Nemo and his dad are reunited.
2.  MAD LIB:  You write a short story out and leave blanks for the kids to fill in.
Once upon a time there was a fish named name.  He was color and color.  His best friends was name the ocean animal.  Together they liked to activity.
3.  NARRATE:  You can narrate the story and the kids can move and talk for the puppets.
4.  STORY WRITING:  This is great for older kids!  Your kids write the story and include a beginning, middle and end!
5.  TAKE TURNS WRITING THE STORY:  Each person adds a new adventure to the story!   Things can get a little crazy here!
Person 1:  "Once upon a time there was a fish named Bob."

Person 2:  "Bob loved to swim to the middle of the ocean."

Person 3:  "He made lots of friends along the way."

Person 1:  "His best friend was a starfish named All Star."

Person 2:  "All Star loved to play basketball in the water."
As for my kids?  They preferred to #6, JUST PLAY!   Sit back and see what your kids come up with!  This is my favorite and each of my kids had such different ideas for the puppets that they each took turns playing puppeteer and audience member.  They loved watching what the other came up with and would build off of each other's stories!  I love how these little minds work!
James' story was great (says the biased mommy)!  It was about a little fish who met a shark who wanted to eat him.  All of his fishy friends decided to go talk to the shark to stop him from eating their friend.  They offered him a peach instead.  The shark enjoyed the peach so much that he never ate a fish again and the little fish and the shark became best friends.  The play was called "The Fish, the Shark and the Peach" (fitting).
Leyson's story took place in the river (Mr. 3-year-old wanted to create his own setting) and his fish spent the whole time swimming up and down the river.  And then the rest of the time his play sounded very similar to big brother's play.
CRAFT TIME FAIL:




Another activity we did was a near-complete failure.  I say near-complete because the kids could care less that it didn't work as it was intended.
My kids and I ATTEMPTED to make sensory-bag fish bowls.  We cut out a hole in a paper plate and glued it to another paper plate – then decorated the plates, of course.  We filled plastic zip-lock baggies with blue hand soap (gel probably would have worked better) and put small plastic fish inside.  Then we placed the bags inside of the paper plate hole and made "fish bowls," but yeah, they didn't work.  The kids DID enjoy squishing the fish around in the sensory bags!  But then they started leaking because Mommy bought the cheap bags.  ::womp womp::
Here is the craft that gave me the idea to make a sensory bag, but I should have just stuck to these directions instead: