A precious First Grade Teacher that was a co-worker of mine used to have bulletin board paper taped to her desk and it was a writing center that she called her "Graffiti Space" for her student's personal artistic signatures.
The idea stuck with me….especially as a mommy of a little one who thinks that every wall should be his personal masterpiece.   I have really drilled it in Sean Patrick's head that we only write on paper because of all the times I have found his hidden messages on the walls, his body, my couch, the tables, etc.
Tonight, I encouraged him to do just that… to write on paper, but on a LARGE area that I designated as his Graffiti Space for the night.
It was as simple as this…
He helped me tape the paper to the windowsill and the baseboards…. this was a great spot for him because it is in his playroom and mr. clean magic erasers agree with my windowsills and baseboards 🙂
I laid out crayons, markers, and colored pencils and let him pick and choose whatever writing tools he wanted to explore with.
We had so much fun!  He would scribble different images and tell me what it was afterwards.
We made rainbows, a special message for daddy, the sun, people, and a lot of other free-writing squiggles just to talk about different ways to form lines (up, down, back and forth, around and around, side to side, etc).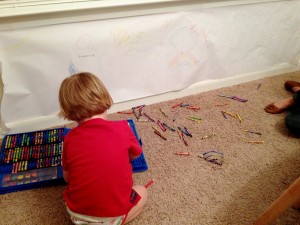 This kind of activity makes writing fun for Sean Patrick, and that is honestly my main learning goal for him.   I just want him to know how fun writing can be!
We left if up on the wall so that he could continue to "fill the space" and add any new ideas when he was ready.