So, I haven't been writing posts as frequently lately.  So much has gone on this year.
Though Casey and I each consider ourselves "stay-at-home-moms" we are actually both business owners.
Casey creates for her business Kidspired Creations, and I run an imaginative play center called Pretend Play Party.
In my facility, there are 20 imaginative play stations that children can pretend that they are little vets, bakers, chefs, moms, dads, construction workers, policemen, firefighters, waitresses, artists, and much more.
When children dress-up they get the chance to BECOME a role that they have learned about through observations for as long as they have been able to make connections.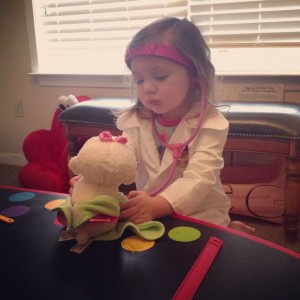 When kids push a stroller, it seems like a simple imitation, but they are just starting to figure out how to imagine that they ARE moms or dads and they are also learning how to make what they believe come to life.
Socially, kids can learn how to relate to others in a positive and appropriate way.
Linguistically, kids can expand their vocabulary by learning and using more words in their imaginative world.  For example, if your kids are playing "grocery store" then you can teach them the names of fruits and vegetables they may not have tried before.  Or, they may learn about lists, and words relating to money.
Physically, children can strengthen their developing muscles by putting on costumes, tying aprons, hammering, digging, cleaning, all while pretending to take on a role/responsibility.
Cognitively, kids learn more when they put on a role, connect hands-on, and engage by allowing their understandings to come to life.
As a bonus, you might learn even more about what roles interest your child most!
So, it seems simple, but the next time your kids are dressing up and pretending to be an identity other than their own, pretend right along with them, extend on their language, and ask questions that will help them to search their developing brains for answers to deepen those connections with their world.
Share any other thoughts in a comment… we have so much we can learn from each other!