One teaching tool that I love to have within an arm's reach is my storytelling bag collection.  I hesitated to use the word "collection" but I looked up synonyms and nothing was cooler than that so I guess I have to admit that I collect storytelling bags.  A storytelling bag is basically a themed bag that includes a book, props for that book, and some teaching tips and ideas (mini-lesson plans) that extend the learning opportunities for that theme.  I love to use props to act out a story because drama really brings the characters to life and children are better able to recall the story from memory.
So many skills can be hit on using story telling bags…. check out some of Louisiana's ELA grade level expectations for "reading literature and informational text" and "speaking and listening" for ideas.
Here is an example of a story-telling bag (also called a literacy bag),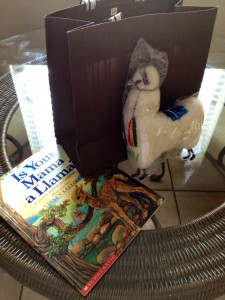 and here is my effort to create the same story-telling bag for a friend who homeschools on her little one's birthday 🙂
The llama is from Bolivia, in South America…. so glad my impulse buys came in handy 🙂
I also added teaching tips in the bag. You can do the same by typing the name of the book that you are gifting into a google search followed by "lesson plans" or something similar….OR you can come up with your own!  I may be the mommy teacher but I truly believe in saving time, (money), and reserving energy for my kids so do what is best for YOU.  In fact, if you are a garage-saler, be on the look-out for quality books and props that might correspond to the books and you will save money, and time shopping for the next birthday gift!