There are A LOT of websites that give activity ideas for little ones, but my goal is to make teaching your little one such a natural part of your everyday routine….. and it helps to have some insight into the best teaching techniques.
Most parents who are "teaching" their little one spend more time "drilling" our kiddos (flash card style) than actually teaching them.  This isn't ALL bad and trust me, I am guilty of this at times!
We get very caught up in the idea that if our child has learned a skill (like letter naming) then we need to constantly ask them "What letter is this?"  and then wait for their answer.  Don't get me wrong….this is a GOOD thing.  You are helping your little one to recall the information repetitively for recognition and fluency's sake!  But I want to ADD that YOU still need to be reinforcing what your little one knows and not just leaving it up to them.
Here is my example of what I am trying to incorporate at home:
Sometimes when I am grocery shopping I see underlying learning opportunities in the products I buy (Alphabits, Fruit Loops for sorting or patterning, Familiar Print, etc.).  But when I was picking up a box of waffles, I saw the opportunity to reinforce teaching shapes by buying a box of circular shaped waffles AND a box of square shaped waffles.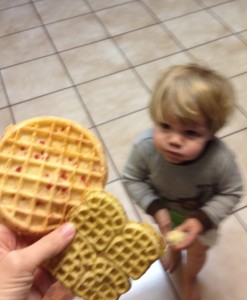 Instead of asking Sean Patrick, "Do you want the waffle that is a square or a circle?" (because I know that he knows his shapes), I talk more about it more to reinforce his familiarity with the shape vocabulary and help him make connections.  "LooK! This waffle is shaped like a circle!" I said this as I held up a strawberry Eggo waffle. "It goes round and round and round like the wheels on the bus!" (I made it turn in circles just so that he would make a connection of another circular-shaped object) "And this waffle" (holding up the cinnamon toast waffle) "is shaped like a square.  It has FOUR sides.  One, two, three, four like a square on the floor!" Then I bent down and traced my finger on the outline of the square counting the sides. "Do you want the circle waffle? or the square waffle?"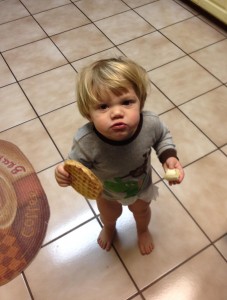 He chose the "circle!" and he proceeded to tell me about it while he ate "I bite a circle.  I bite a round and round" haha – I think he gets it.
Ignore the fact that his diaper is coming apart at the moment, we need to move into pull-ups because of all the "false alarms" that come with potty training.  He cracks me up!