Do you remember the rhyming tree from Casey's Playroom?
I love this tree and think that if your little one is READY for this skill, then it is a great space to create. Creating spaces for interactive learning is so beneficial for your little learner, but making those spaces age-appropriate and developmentally-appropriate is MUCH more beneficial. Your child may not be at an age where the rhyming tree is appropriate for him/her; maybe your little one still needs to work on the bulk of their oral vocabulary. Think about it….if you are trying to teach your child that "king" and "ring" rhyme but you haven't introduced those words with pictures first then your little one is going to have a hard time understanding what you are asking of them.
So, I am suggesting that you take some time to figure out what type of information to display for your little one:
1. Start with just the pictures of shapes, colors, animals, people, places, things, etc. (NO WORDS)
2. Letters –upper and lower -they can match them 🙂
3. Pictures of opposites (Big & small, open and closed, etc.)
4. Pictures of rhyming words
5. Environmental print (Burger King, Cheerios, etc)
6. After introcuding vocabulary start to include pictures combined with the words for colors, shapes, animals, opposite words, rhyming words, etc. So, an example would be a picture of a cat with the word cat written on it.
7. Sight words
8. Spelling words
Casey with Kidspired Creations shared yet another variation to her playroom Tree….an Easter tree!!! Because another GREAT way to introduce RELEVANT oral vocabulary is by displaying SEASONAL pictures and words. This gives you so much material to talk to children about the season, the holidays, and to introduce a world of knowledge that pertains to their world. Casey came up with the idea to make an Easter Tree so that she could introduce all of the vocabulary that James would be exposed to over the course of the next few weeks.  So not only did Casey share her picture, but she decided to make it super-easy for you to re-create….she shared her images:  Click here to get them!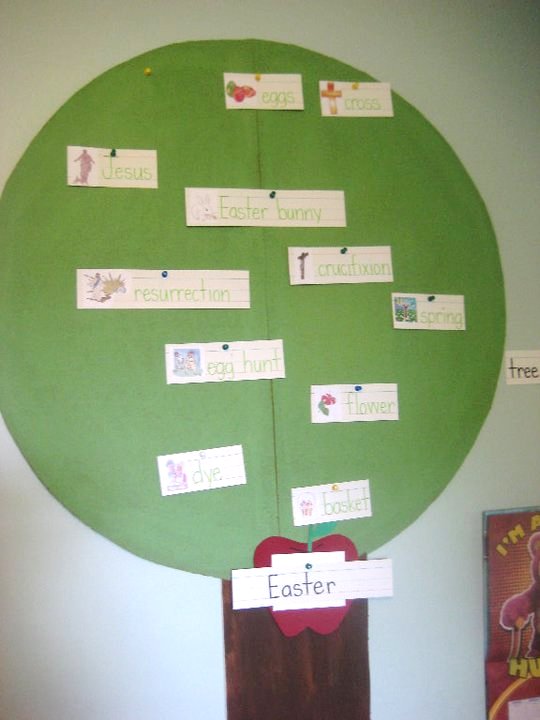 Here is how she modified the tree for Easter.
And a word from Casey:
"James and I brainstormed different words that are associated with Easter and we discussed what they mean. We read "The Jesus Storybook Bible" about the crucifixion and resurrection of Christ. We then wrote down our new words and searched for clip art on the computer to match. I wrote the words on word strips, and James glued the pictures with the corresponding word.
This activity is a great way to build ORAL language. I used the words and pictures of the word to help James create a visual association to what the words mean. The goal of this activity was not to have James learn to READ the words and SPELL the words, but to have him be able to understand the words, use them correctly in a sentence, and explain what they mean. Visuals help kids to learn oral vocabulary because they can now relate the oral word to a picture."
We expect children to understand everything about the language and culture they were born into, but it takes time and there is so much to learn.  Mommy Teachers have the opportunity to shape our little one's understanding of their world, one word at a time!
Please share your variation of the vocabulary tree on the Mommy Teacher Facebook Page!