Rafflecopter chose entry #30 – Sheralyn!  Congratulations!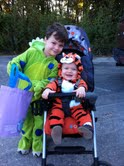 I contacted this mommy teacher who is a mom of two adorable boys, Nasby (4) and Jude (8 months).  Nasby goes to preschool three days a week, and his hard working momma works the evening shift as a nurse twice a week.  She says that her boys love to learn and soak up every learning opportunity she provides.  Well Sheralyn, enjoy your quiet book!  🙂
Thanks so much to Pacific Kid – I love your products and I will certainly be buying them as a mommy teacher myself!  Don't forget mommy teachers….there is a LIMITED TIME discount for mommy teachers on their site….promo code "Mommy10"  so order those gifts in time for the holidays 🙂
As a former Early Childhood Teacher I would've loved one of their products for my classroom, so maybe you can buy your little one's teacher a gift for Christmas!