If you are just now following along with our Devotions posts, please read our Week 1 post.
Day 1:  I Am Calling You
"Be still before the Lord and wait patiently for him." -Psalm 37:7
Our devotion today talked about spending time with God and turning off all distractions that can keep us from having a relationship with Him.  We practiced standing really really still and listening. We heard birds singing, tractors in the field, and bees buzzing.
We then tried to stand on one foot and noticed that by not staying still, it was hard to concentrate on all of the things we heard a minute before.  Being distracted by busy things in our life makes it hard to focus and be still to listen to God.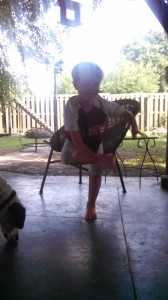 "Instead I have calmed and quieted myself…"  -Psalm 131:2
"You give him blessings forever; You cheer him with joy in Your presence." -Psalm 21:6
Day 2:  The One Who Heals
"He forgives all my sins and heals all my diseases." -Psalm 103:3
Today, we busted out the band aids and talked about God healing our bobos and our hearts.  Our activity was super simple:  we put band-aids on us and talked about how they help heal our wounds.  (Lucky for me, I had just 2 band aids left!  Now I need to remember to buy a new box at the store.)
"You do not have because you do not ask."  -James 4:2
Day 3:  I've Got Plans for You
"O Lord, God of Israel, there is no God like you in all of heaven above or on the earth below.  You keep your covenant and show unfailing love to all who walk before you in wholehearted devotion."  -1 Kings 8:23
We talked about walking hand in hand with Jesus down the right path.  Leyson had a late nap on this day, so I used this opportunity to do a focused writing activity with James.  He had to come up with a take away sentence from what we talked about and then draw a picture to match.
"But the fruit of the Spirit is love, joy, peae, patience, kindness, goodness, faith, gentleness, self-control.  Against such things there is no law."  -Galatians 5:22-23
Day 4:  Shout it Out Loud
"Submit yourselves, then, to God. Resist the devil, and he will flee from you." -James 4:7
When we talk to God and tell him our troubles, he can help us overcome them.  Today we talked about our fears and how we only need to lean on God when we are afraid.
Me: "James what are you afraid of?"
James:  "Pretty much nothing because I'm a ninja and I can karate chop the devil's head to a million pieces."
As you can see, I had a hard time getting my super brave boy to admit that he had any fears.
After much deliberating, both boys decided they were afraid of wasps (well, James said he is, "ALMOST afraid of wasps." – close enough.)
I wrote their fears on a piece of paper and we prayed about them.  Then we wadded the papers up, ripped them up, stomped on them and threw them in the trash can representing how God helps us to overcome our fears.
"Indeed, God is my salvation.  I will trust Him and not be afraid.  Because Yah, the Lord, is my strength and my song, He has become my salvation." -Isaiah 12:2
Day 5:  Growing Up
Today we deviated from our devotional because James needed some extra encouragement.
We pulled out an old favorite verse that we have been praying over for a while for each of our children.
"'For I know the plans I have for you,' declares the Lord, 'plans to prosper you and not to harm you, plans to give you hope and a future.'" -Jeremiah 29:11
I made this sign for James to hang over his bed.  He had to say the verse 3 times before bed as we prayed over him.  This really helped calm his little spirit and give him a new attitude for the night.  Our activity was just good ol' conversation.  Sometimes, that's the best way to really help them get into the Word.