I took my son to see the doctor for his routine "return-from-traveling-with-a-cold" visit.  After asking the typical questions about his diagnosis, "Is he contagious?"  "What can I give him to stop the whining pain?" my next questions were, "Can I take a picture of your art work?" and "Can I blog about it?"  From the look on her face, this was the first time she had gotten asked that question at an appointment.
You see, I fell in love with how she had her own children's artwork displayed in her patient rooms.  After she agreed to allow me to take pictures and blog about them, she showed me around the office to see all of her kids' art!  I just loved it all!  It's so hard to not just love a painting or drawing done by a child… even if it's just lines and dots.
The ways that she had the different projects displayed turned simple child art into masterpieces… framed and hung as if they belonged in a gallery.  What child wouldn't feel so special to have their artwork displayed so prominently in their home?
This is the one that especially caught my eye: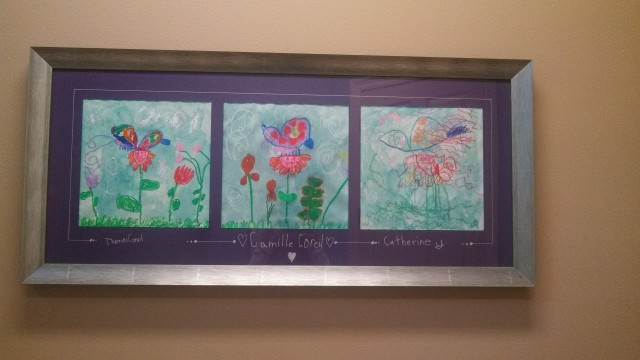 She took her kids to a local art class and this was the project they did with water colors and crayons.  I love this because she framed the same project done by all three kids.  It's beautiful and so cheerful!
These paintings could have easily been placed in their baby boxes and forgotten for years until re-discovered down the road when the kids are heading off to college.  Instead, my eyes were immediately drawn to them when I walked into her office.
Arts and crafts stores such as Hobby Lobby and Michaels do custom framing, but you can also just bring them an old frame and whatever artwork/pictures you want to frame.  They will cut a matte to fit (that's the purple part you see between the frame and the picture).  The matte is what makes this look so polished.
I also love how she had each of the kids sign their names under their artwork.  Real artists in the making!
Here is my other favorite from another of the patient rooms: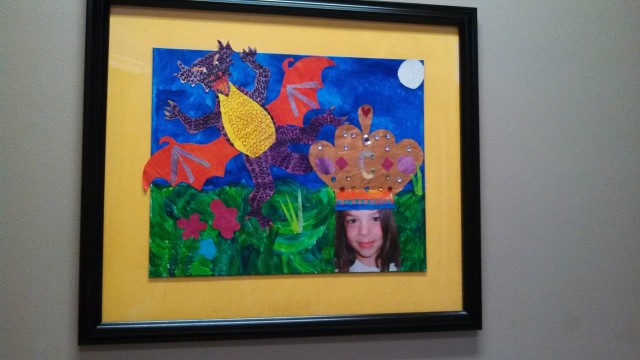 What a great idea to allow your child to use his or her own picture in his/her painting!  I can't wait to do something similar soon!
This also made me think of my friend's house and how she displays her kids' artwork: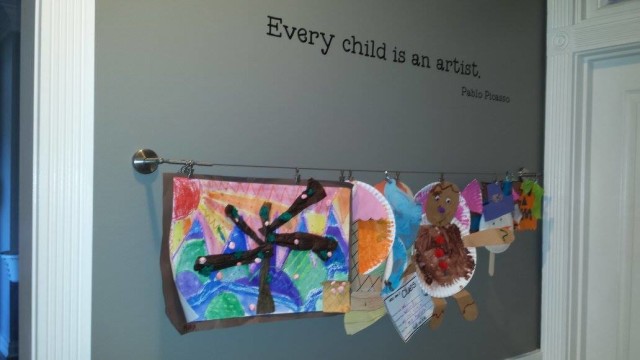 1. I love the wall decal with one of my favorite quotes and 2. I love the fact that this is interchangeable, but still clean.  (You can purchase a similar wall decal here on Amazon and the wall mount with clips here).
These ideas are all way better than how I have most of our artwork displayed (I'm pretty sure the whole alphabet will not fit on our back doors):
And obviously my kids now think they can stick anything on the doors since they are now covered in stickers as well.
Here are two other ideas from my house:
Jessica also sent me these two amazing pictures and I am totally going to steal this idea because I love it so much!  Let the frame-collecting begin!
How do you display your child's masterpieces?  Please share with us on Facebook @themommyteacher!