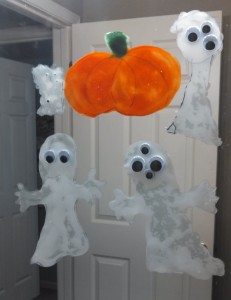 My mother-in-law just did a super fun and easy Halloween craft with the kids (and me…she brought extra supplies because she knew I'd want to do one too!).
We made ghost and pumpkin window peels/decals and decorated the kid's bathroom for Halloween.  We had so much fun doing this super easy craft that I think we might just have to make our own window decals for every holiday!
Materials for Ghost Window Decals:
transparency sheets
white paper
school glue
permanent marker
googly eyes (optional)
nail polish remover
Step 1:  Place a blank paper underneath your transparency (easier to see that you are not writing on your table with a permanent marker).
Step 2:  Draw your picture onto your transparency using your permanent marker.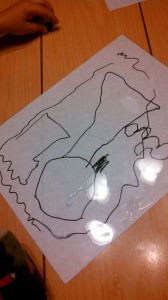 Tip:  My 6-year-old had the genius idea to TRACE a picture.  Look through a few coloring books or print a picture off the computer of a simple shape to trace.
Step 3:  Pour a whole lot of glue inside the outline of your picture and use your finger to "paint" the picture.*  Make sure the glue is thick and even across your entire picture.  It's ok if the glue goes out of the lines, you can trim that off later.
Step 4:  Place your transparencies on a flat surface to dry.  You will be finishing your craft tomorrow.  When all of your glue has turned from white to transparent, it is dry.  (We let ours sit for about 24 hours).
Step 5:  Using a small amount of glue, place googly eyes on your ghost.  Wait for the glue to dry.
Step 6:  Peel off and stick to your window or mirror!  (Getting it started to peel off is the tricky part.  Try bending the transparency while using your finger nail to lift it from the sheet.  Then gently peel it off.)
Step 7:  Use nail polish remover to erase the permanent marker from the transparencies and begin the craft all over again!
*To make COLOR decals, when doing Step 3, add a few drops of food coloring to your glue and mix together while you are spreading it.  For our pumpkins, we added 4 drops of yellow to 1 drop of red in the glue and mixed it together to make orange.
Another option is to use fabric paints instead of glue, but 1. I love finger painting with glue, and 2. using glue is a cheaper alternative to fabric paint.
If you do this craft with your children, please post pictures to The Mommy Teacher Facebook page!