I am so excited to introduce you to my dear friend, Miriam Douglas, Christ-follower, wife, mother, architect, artist, author and entrepreneur!  Miriam is a momma of two little ones and has a heart to minister to young children.  This fall she is partnering with Melissa D'Aunoy of The Kitchen Table to offer small-session workshops for school-aged children designed to help them learn how to love God, themselves, and others in a healthy and balanced way. For more information about these workshops email her at miriam@miriamdouglas.com.  Miriam and her company EQ Studio are based out of Youngsville, Louisiana.  
I asked my gifted little friend, Alayna, 12, to sit and do a watercolor portrait of what she thinks God sees when He looks at her Heart. Below is the picture she drew.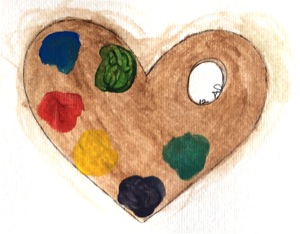 I think it's such a beautiful and accurate perception! We are all living in different environments, born into different centuries, moving through crowds of different personalities. Starting out, we each have a palette much like the one she drew. On it are our emotions, our passions, our spirit, our talents…
We ARE coloring the world around us with the pursuits of our heart, and everyone is holding a brush. As you choose to engage in relationship with others, think about the colors YOU are using. Are you painting with dark blue, out of the pain of your circumstances, or with bright and joyful strokes out of a thankful, Spirit-filled heart?
The Bible tells us that God pours love into our hearts through the Holy Spirit (Romans 5:5), and the colors HE provides are Love, Joy, Peace, Patience, Kindness, Goodness, Faithfulness, Gentleness, and Self-Control (Galatians 5:22-23)….what beautiful, bright colors they are!
Jesus puts Good Things onto our palette, we have only to ask Him for it (John 15:16).
Teach Your Children:
We don't always get to choose our coloring book, but we DO get to choose what to do with it. Talk to your children today about the good things God puts into their heart. Give them a handful of pretty colors. Print out or copy two pages. Have them color one with those bright, happy colors and then have them color the other with drab, monotone crayons. Let them see the SAME image colored two different ways…Let them see the difference between a gloomy scene and a bright one! (Philippians 4:8)
Here is a great printable for this activity!  EQ Studio Printable