When we were "Boo'd"  the other day, we got some stickers in our little surprise basket that I wanted to do something with, but couldn't quite put my finger on what that should be.
Then, for some unknown reason…. the following activity popped into my brain….I turned the stickers into a "heads or tails" game with just 5 SIMPLE materials:  2 sheets of stickers, one piece of paper, a marker/sharpie, and a coin bigger than the smallest sticker on your sheet.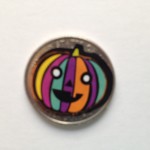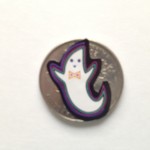 I placed a jack-o-lantern sticker on one side of the coin, a ghost sticker on another side of the coin,
and then made a SIMPLE sorting sheet by drawing a line down the middle of the page and one at the top.  I place a sticker on either side of the sorting sheet.
I explained to Sean Patrick that we would flip the coin to see if it landed on heads (the jack-o-lantern) or tails (the ghost) and whatever it landed on would get to put that sticker on the chart under the matching sticker.
I showed him one example and then he took over and got the hang of it.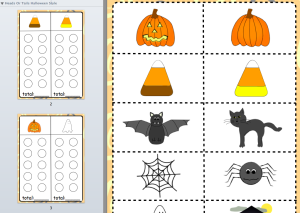 I decided to make a printable for this in case you wanted to download it and save it in your files for any teachers, homeschoolers, or for all you organized moms.
As you can see, this halloween printable has other images in case you have different stickers and it has candy corn images in case you want to sort your autumn mix candy instead.  We sorted the candy corn and had a blast…. the dog was a little jealous!
He had to color each space the matching color before he could eat each candy corn, and he got a little carried away at the end… maybe it was the sugar high.
Mommy wrote the numbers after he counted each side.
You can also use the other images in this printable to make playing cards for memory or Halloween Go Fish.
If you have younger kids that you would like to do this activity with, you can simply have them sort these items without any of the bells and whistles.  For the sticker activity, Just say "Let's sort the groups of stickers.  Can you put ALL of the jack-o-lanterns on this side of the chart under the jack-o-lantern and ALL of the ghosts on this side of the page under the ghost?"
Finally, if you want the download it is just around $1 in my TeachersPayTeachers Store,
OR become a member and get this printable along with ALL of my other printables for just a few dollars more!!