This pregnancy my cravings are getting the best of me! I will have very specific cravings and then feel the need to feed my craving immediately…my last pregnancy this wasn't really the case so I thought pregnant women who did this were a little crazy haha. But the other night, I somehow put it in my head that I wanted a root beer float even though I really haven't craved many sweets this pregnancy, I decided I needed it at that moment. So, a little after 9:00 o'clock I told my husband I'd be "right back" and he laughed when I came back home with ice cream and root beer and didn't hesitate for a second because I made my root beer float the second I walked in the door.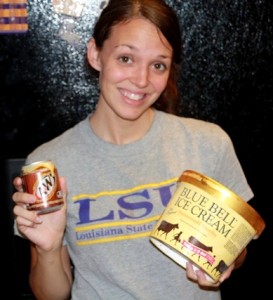 I wonder how many other Mommy Teachers are pregnant, trying to keep up with your little one and a meal plan for the week. This "Mommy Moment" made me think about one of the cutest Story Cook Books I have ever seen. My best friend made a cookbook that told children's versions of recipes word for word. So for root beer float it might have said something like "Well, you need some ice cream and maybe some chocolate syrup if your mom will let you have it. Then you scoop two, no three, scoops of ice cream in a cup and pour the chocolate and root beer over it until it bubbles up and makes it foamy. Then you can eat it, but you have to hurry so the ice cream don't melt!" So, to make a Cook Book of these "recipes" you would write each "recipe" – in your child's own words and maybe ask some other questions to add to that page in the Cook Book like "When do you like to eat root beer floats?" or "What other kinds of ice cream would taste good with root beer?" or even "Does this recipe fit into one of the food groups?" haha that would be an interesting answer. And then you could put a picture of your child eating a root beer float on that page of the cook book.
I think that this activity is SUCH a great collection of your child's thoughts. While it is a keepsake it also reveals their understanding of sequential order, how they use their senses to make observations, memory recall, quantities (if you ask them specific questions like "how much root beer?" etc.
Have so much fun with this and share pictures on the Mommy Teacher Facebook Page if you make one or already have something similar to this!