The other day I was talking with a good friend of mine (who is also a mom of young children) about how we used to spend time in the mornings journaling. (I can't imagine what could be distracting us nowadays. Hmm.)
I really miss it.
I miss that time to reflect on what God is teaching me.
I miss that time to be still and quiet.
I miss the slow sips of coffee that I actually enjoyed.
But, I wouldn't trade it for the joy my kids bring to me every morning. The pure, wild, joy they bring.
My friend mentioned that Sally Clarkson wrote a blog post once about journaling with her children every day, and I made a decision to do the same.
A week went by.
No journaling.
The lovely picture of journaling with my kids was still in my head.
Then, the Sunday morning service was about Re-discovering growth.  Colossians 2:6-7
This verse made me think back to when I first started to journal.
Now I wanted to journal, about how I used to journal.
At this point, I didn't even just want to journal anymore,  I needed to journal.
After reading Casey's post this past weekend about purposing worship with the kids every day I knew I needed to stop thinking about it, and just GO get the dang journals.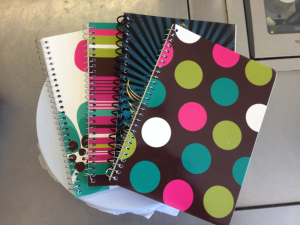 So, when I came back from the store, it was really exciting that my kids actually LOVED their journals and wanted to journal right away. "I'm so exciting!"  was the two year old's reaction.
We journaled about the Sunday morning message – to WALK in Jesus in the way which we have been taught / are learning to do.
I traced the kids feet in their journals and I wrote the letters spelling out WALK inside their footprint.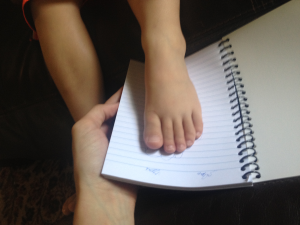 I described to them how I make a cross while I drew one (it's like a big rectangle "T" with one rectangle going up and down and one going across.)
I wrote Jesus' name while singing the letters in his name to the tune "Bingo" and then gave them the pens and told the kids to write on top of my writing and/or to draw anything they want to on their own personal journal page.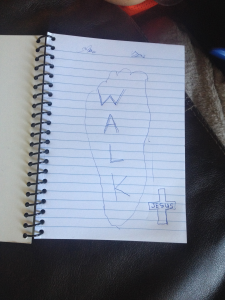 While they did this, I jotted down my own reflection in my journal.
I would have liked this to last 30 minutes, but I was content with two.  I finished the entry later that night after the kids went to bed.
I hope we keep it up.
Leave a comment if you have any ideas for journaling with your kids or tips for finding time to journal yourself.