Games, books, and songs that connect letters to their sounds are all GREAT ways to introduce phonics (the relationships between letters, letter patterns, and their sounds) and are GREAT for memory recall.  Okay, that's the facts, here's the fun:
One of my favorite songs for teaching this is Dr. Jean's "Sing and Sign"
It is to the tune "Where is Thumbkin?"
The lyrics are
"Where is A? (repeat) – With your hands behind your back
Here I am. (repeat) – Show the sign language for the letter
What do you say A? (repeat) Hands up asking a question
/a/ /a/ /a/(repeat) – Show the sign language again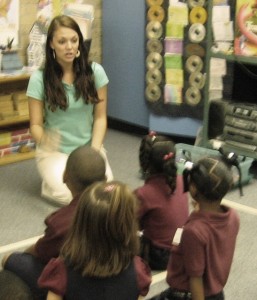 I am NOT a photographer so forgive me for the quality of this picture (Oh, and all my pictures for that matter).  Aside from that, this is a great song to teach children using movement, visual clues, and listening skills. 
Another way to introduce and sing this song is to buy a Sign Language chart from your local school supply store (Ours is called School Aids) or purchase one online and use the chart on display OR buy sign language cards put them in order, punch holes at the top, and use binder rings to hold it together.  It will make a great little flip book so that they can look at it in the car when they need some independent silent reading time.
*Because I know that you are more likely to do this activity if you have the materials on hand, I went ahead and made an Alphabet Sign Chart and Alphabet Sign Cards….You're welcome 🙂