This past Thursday night, I cooked a meal for a group of college students, and one of them told me "I hope I'll be able to cook meals like this one day." 
That one comment got me thinking about SO many things:
My first thought, to be honest, was satisfaction – who doesn't like to make a crowd-pleaser? 
Second thought, I was proud of how far I've come because before I got married I couldn't cook macaroni and cheese.
Thirdly, I wanted to help this college student learn to cook because I love to teach about anything I have learned about (hints this site!).
Finally, I thought about how it was sad that I didn't take the time to learn cooking tips from my mom and dad when I was young.
This reminded me of one of my FAVORITE things to do with kids, when permitted: bake or cook!
Maybe you already do this, but I have a couple suggestions to pack this activity full of learning opportunities.
Before starting, read a book like "The Little Red Hen" "Pete's a Pizza" or another book that prepares your little one for the process and purpose of cooking or baking in a fun and meaningul way.
First, write out the recipe WITH your little one on a large piece of paper, and then read each ingredient as you pull it out.  Ask them questions and give them clues "What ingredient do you think starts with the sound /m/?" (milk!) This will give you a chance to model reading and writing for your little one.
Next, measure each ingredient WITH your little one so that they have the chance to experience measuring for accuracy and to observe large and small amounts and they will naturally observe science in action as dough rises and ingredients mix together, etc.
Finally, let them take on as much ownership as you are willing to share: stirring, spreading, sprinkling, watching the timer, or whatever your recipe calls for.
Ask your little one what he or she wants to make or bake! Have fun! 
Casey shared these pictures with me from the Young Chef's Academy…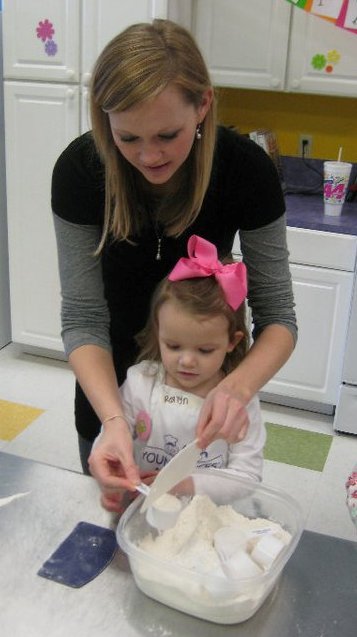 Mommy and daughter measuring to make the dough from scratch – ambitious!




Mommy and Daughter making the measurements precise. 
Mommy and her big boy rolling out the dough.
James is enjoying the pizza sauce…mmmmmmm.
Putting on the cheese….my favorite part of pizza making.
And last step of prep….toppings of choice!
Here is a pizza recipe you can write out, cut out the pictures and use them when you write out the directions for the recipe.
Please share pictures on my mommy teacher facebook page of other FUN cooking experiences you share with your little one!