Okay, I need to know….. how many of you are the kind of moms who have your valentine's bought weeks ahead of the Valentine Day Parties and how many of you are moms who are going to be up late on the 13th?
Well, here in Louisiana, we are out of school several days for Mardi Gras on Valentine week this year.  So, our parties were early, and the next picture might give you an idea of the kind of mom I am….. coffee cup, everything spread out on the table, morning light….. yep, Sean Patrick and I put the finishing touches on our little happies the MORNING OF!
I found this cute valentine printable for free online that reminded me of one of Sean Patrick's favorite YouTube videos.  I just printed it onto white cardstock and they came out so cute.
Each Valentine is for "You" because it was the easiest honestly, but I think personalized Valentines are great, but some teachers specify not to write the names because of time limitations and I felt like "you" was appropriate :
All they needed was to be cut, punched, and stuck with a Valentine's Day pencil to give them that extra umph.
And conveniently, there was room when you flipped it over, to slide a pack of skittles right between the pencil and the valentine.  (This is obviously the best part.)
And of course…. we couldn't forget about his teacher!  We cut out a valentine, personalized it to his teacher (because "you" wasn't as appropriate in this case), cut it out, and slipped it in her tumbler.
And there you have it folks, with 5 minutes to spare….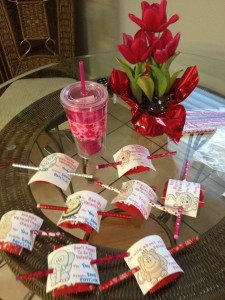 Please please share your valentine ideas with me via email jessica @ the mommy teacher (dot) com  so that I can share them here for other moms who might need last minute ideas!
Or quick upload pictures to share on my facebook page !