I had planned to do a different Easter craft activity every day this week, but you know what?  This week FLEW by and we were never home!
Being Spring Break, I knew my kindergartner would want to be on the GO so I planned the week chock full of stuff… play dates to the park, zoo, arcade and more!  So needless to say that by the time we got home, took naps, woke up, it was already dinner time!
Tonight we will be having a glow in the dark Easter egg hunt with all of our friends at our house!  It will be so much fun!  (If you want to do this, simply get a package of LARGE plastic eggs and glow in the dark bracelets to fill them.  Then throw them in your yard.  Bam!  Glow in the dark Easter egg hunt).
Anyway… onto the ONE Easter craft we were able to d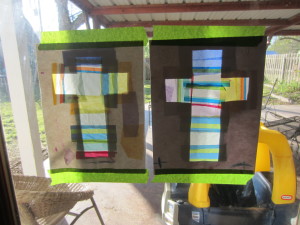 o – and we were able to complete it in about 15 minutes before we left for a play date one day this week!  My kids call them Sun Crosses, for lack of a better name.
Materials:
2 sheets of paper per kid, scissors, tissue paper and stick glue
Step 1.  Fold the 2 sheets of paper in half long ways together.
Step 2.  Draw half of a cross on the fold.
Step 3.  Cut out the 1/2 cross.
Step 4.  Flatten one cross and cut 3-4 inch strips of tissue paper (or use one large sheet of tissue paper for your entire cross).
Step 5.  Put the stick glue around the outside edge of the cross.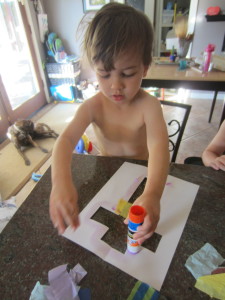 Step 6.  Place the tissue paper across the opening for the cross.  Do not leave any gaps.
Step 7.  Take the other sheet of paper with the cross cut out and cover one side with the stick glue.  Then glue it directly on top of the other cross on the tissue paper side.
Step 8.  Add your own artistic flare around the crosses.
Step 9.  Place in a sunlit window and watch the light shine through the cross!
Happy Easter, y'all!!!