One of my favorite art projects to do with kids, to develop the little muscles in their hands, is to have them tear apart little pieces of colorful construction paper and glue them onto a template to make a beautiful work of art that I usually help little ones write a sentence about.  One example is a fall picture that all you need in order to make it is crayons and construction paper: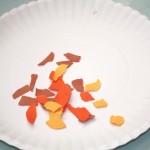 You can have little ones tear apart little pieces of their favorite color construction paper (or seasonal colors) until the shreds fill a paper plate.
Then, have your little one help you come up with a template; mine was simply made up of a tree trunk and a circle for the pumpkin.
On top of this template apply a thin layer of glue…..I use rubber cement (or spread regular glue with a small paintbrush).
Before the glue dries, let your little one assemble the paper pieces onto their picture.
Finally, ask your little one to help you write a sentence about your picture.  For example, "I like the Fall" or "The leaves are falling."
If you and your little one make your own Tear-Art please share on The Mommy Teacher Facebook Page: