Today, I am sharing a template with you so that your little one can make a personalized headdress.
I always loved doing holiday crafts as a kid, so I am trying to keep that tradition going!
I got this craft idea when I went to my son's Thanksgiving Feast.
The kids wore headdresses and one class had Native American nicknames written on their headbands, but I thought it would be cute to try it on the feathers.
I thought, I could do that.  And as you may know, I like reproducible activities.
So, I made this template for you.
The feathers have upper case letters, lower case letters, and numbers so there are lots of directions you can take this craft.
[Click HERE to become a member and get unlimited access to  ALL The Mommy Teacher Printables including this one!
OR CLICK HERE to purchase this Thanksgiving printable individually from my TeachersPayTeachers Store.]
When I did this at home: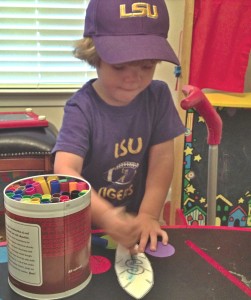 My goal today was simply to get Sean Patrick to put the letters of his name in order after I scrambled them up, and give him a fun accessory to wear to go with all of his little Indian songs he has learned.
So, I scrambled them up and asked him to find the letters in his name.  He found S, then 'e,' then 'a,' then 'n,' etc., colored them, and then I taped them onto his headband that I cut from a brown paper bag..
You Could:
1) Use this as a number order activity or assessment by teaching your little one to put the feathers in order from 0-9 and then mix the feathers up and see if your little one can put them in order himself.
2)  Let your kiddos come up with names for their stuffed animals, put small feather headbands on stuffed animals heads (use a print setting that prints multiple pages at onto one sheet of paper to print small feathers).
3) Place paper feathers on the inside of construction paper to give it a pop of color if you don't print them onto colored paper or if you children don't color them in much.
4) Or, come up with something original and share it on The Mommy Teacher Facebook Page or as a Mommy Teacher Spotlight because we are always looking for more ideas to do and to share!
A creative mommy-teacher friend of mine put her own twist on this activity, and I love it!  Had to share: