1 photographer + 2 Mommy Teachers + our 6 kids = total mayhem!
Jessica and I are bouncing off the walls after we had a super fun, high-energy, awesomely chaotic photo shoot with a local professional photographer and we cannot wait to see the results!
Kelsey Ryals of Kelsey Ann Photography had amazing patience while our 3+3 kids ran around spilling water, tracking play dough through her house, dumping toys all over the place, and drooling tootsie rolls as Jess and I danced around making funny noises to get the kids to cooperate for that magic shot – all while "Down by the Bay" and other kids' songs played in the background.  Can you just imagine the scene?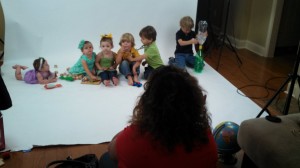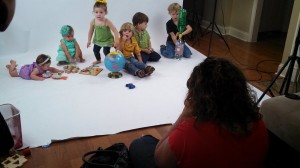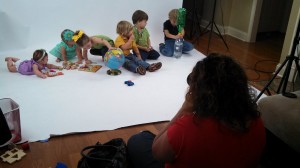 Whew!  Good thing Kelsey is a mommy teacher herself with her 4-year-old joining in on the fun, excited about the unexpected playdate at her house, otherwise our crew may have been completely overwhelming for a photographer.
Anyway – so many exciting things are coming to The Mommy Teacher and  we are just giddy with anticipation!  After seeing the sneak peeks from the shoot, well, let's just say, the wheels are in motion for a makeover!
Many, many thanks to our photographer, Kelsey!  Please go visit the Kelsey Ann Photography Facebook page and visit her website to see her amazing portfolio:  http://www.kelseyannphotography.com .
If you are in the Lafayette, Louisiana area, Kelsey, a member of Professional Photographers of America, does lifestyle, wedding and studio photography – capturing the most precious moments of her clients' lives!  She also participates in OpLove – providing photo sessions with military families, and Inspiration Through Art – photo sessions for families with children with serious illnesses or life-altering disabilities… ALL FOR FREE!!!  I am so humbled by Kelsey's passion to provide forever memories to these families at no cost.
Thank you, Kelsey, for helping out these Mommy Teachers!  We cannot wait to see the final product and the changes to come on our site!