I'm really excited to share my latest favorite "find" with you all. And the best news is that I actually get to SHARE my "find" with one lucky mommy teacher… so check this out and read carefully to see how you might get in on the action!
I just love this Organizing Utility Tote from "Thirty-One Gifts" consultant Katie Leach – I mean love. I love it for so many reasons…mommy teachers will love it for so many reasons:
This tote can be used as a diaper bag, teacher bag, gym bag, beach bag, overnight bag, purse, picnic bag, you name it!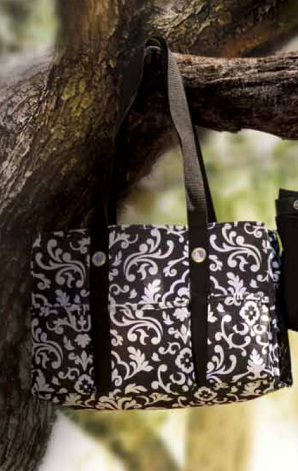 The pattern pictured to the left is called black parisian pop and it is so pretty….it is one of my favorite patterns in the catalog.
Black Parisian Pop is the actual pattern I am giving away – it is NOT monogrammed – you can personalize it if you wish!
For more examples of what this pattern looks like check out the following page of the catalog by clicking HERE and a few more examples can be found HERE.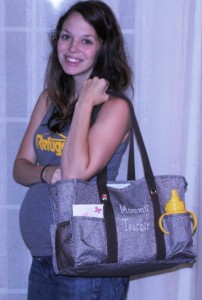 I just had to add an authentic "mommy teacher momment" modeling pic for your entertainment…..
  A bed-head, no make-up, 7 months pregnant in my college ministry tank top, haven't had my coffee yet, fashion shot.
I have already used my bag as an overnight bag, a diaper bag, and a "teacher bag" and this particular day it was functioning as a combination of the three.
To Enter:
1) Check out the thirty-one gifts catalog and "Leave a comment" on this post about your favorite find or pattern.
2) Add thirty-one gifts consultant Katie Leach as a friend on facebook.
3) Get a DOUBLE entry for SHARING and TAGGING something like this as your facebook status "I just entered @TheMommyTeacher Giveaway thanks to Thirty-one gifts consultant @Katie Leach)
-You have to have "liked" the mommy teacher facebook page and added Katie leach to your fb friends in order for the "tag" to work and your double entry to count!
So, you can have up to FOUR entries total for better chances of winning the incredibly cute multi-purpose organizing tote.
Enter by midnight on Friday, September 23rd because I will be announcing the winner on September 24th.
Contact consultant Katie Leach if you are interested in purchasing any other items in the catalog or want more information on Thirty-One Gifts.