Have you had a tea party with your kids lately?
I'm not even necessarily talking about big floppy hats, pearls, or over-sized fancy dresses, but some of my favorite childhood memories are wrapped up in those details.
I'm just talking about a simple playroom tea party: making tea, having some cookies/crackers out, and encouraging your kids to use little cups and plates and talk about all things tea time.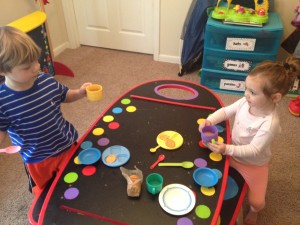 Here are 5 reasons why we have a tea party at least once a week:
1) My kids will drink TEA with a little cream in it and that excites me for some reason.
2) I feel like we are having old-fashioned fun, and making memories that will last.
3) We talk in British accents and say "Cheers!"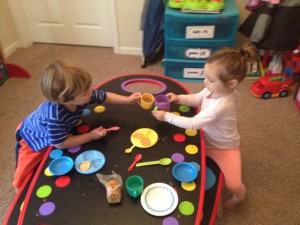 4) We talk about table manners and what is "proper" for when it is appropriate.
5) The tea party experience gives my kids something to imitate when they play by themselves.  I love to hear my two year old say "Here is your tea, but blow on it first because it is hot hot!"
Don't you feel like some of the things that we did as children are forgotten?  I want to hold on to those pure, precious memories that made my childhood so meaningful.