Hmmm…. I have a child napping and one at a birthday party that my husband brought him to.  Adding those little nuggets together equaled getting my fingers to the keyboard and writing a long overdue post.  You know me, I am SIMPLE.  An idea can go a long way.
One idea you can take today and run with it (in your own way) is introducing the concept of addition if you havent already.  You can start with language as simple as "You plus mommy equals happy together"  OR  "One cookie and one more is two for YOU!"
Addition sounds scary, but it is so important when kids start realizing that two groups of numbers can be put together to make one new number.  And there are so many fun ways to practice…. drawings, crafts, and it gets really fun when you incorporate food 🙂
I usually start out by introducing the language for a while, like I mentioned earlier  (examples are:  and, is, more, plus, equals, together).
I cant help of think of that cheesy song "You (plus sign) Me (equal sign) us" that I'm pretty sure was one big joke and I actually cant believe I am bringing it up in this post…. don't judge hah  😉
Then I simply incorporate all of this into every day learning opportunities like….
"Daddy has a fishing pole AND Sean Patrick has a fishing pole.  How many fishing poles do we have all together?"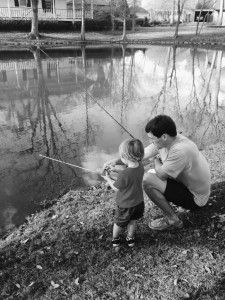 If he doesn't know then I would say "Let's count!"  and then, "So, one and one is TWO."
After there is familiarity with the language, I bring it to a more concrete level by adding our snack time foods together or adding two groups of blocks to one tower.
Finally,  we might draw pictures to represent adding, and then introduce word sentence in writing (one and one is two) and then the symbols (+,= ).
Your turn mommy teachers…. how do you use addition in your every day home environments…. send pictures for me to share and post ideas for other moms to see!  jessica (at) themommyteacher (dot) com.