A friend of mine from Santa Cruz, Bolivia sent me a name plate for Sean Patrick that I have hanging on the headrest in front of his car seat.  Displaying words that are meaningful to children is key because children "study" the print after you have talked through it with them.  These images become input in their working memory and will benefit your little one's ability to recall important information.  Don't just assume that they know what the print is or says (even if there is a picture).  Talk about every feature.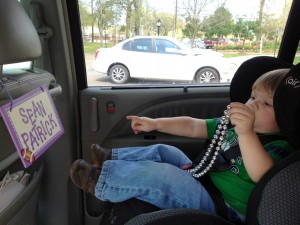 For this name plate we talk about the color, shape, letters, the ball, and that those are the letters in his name.  We sing our little song, and I ask him about it as we are riding along.  I know this may seem so "behind the times" because most people have a tv in their head rest these days, but if that is the case hang skill sets on the back of the driver or passenger seat because either way it is a great visual for concentration.
I really recommend making one WITH your little one, but if you want to buy a decorative one my friend is in the business of making them and she calls them "Name Plaques" so contact her if you want to buy an affordable, customized display of your little one's name.