I notice that "coloring pages" are still all the rage, and I actually think so much great conversation and bonding can take place coloring with your kids so I am probably in that mix. My kids and I love to color together.
But, I also like to make templates that I can use for multiple uses.
So, I made a simple but useful and free Pilgrim Hat Activity that I am posting for ALL my TMT followers.
You can use this to talk about who attended the First Thanksgiving.
You can use this to talk about food that we typically eat at Thanksgiving.
Or you can use this to talk about thankfulness of course!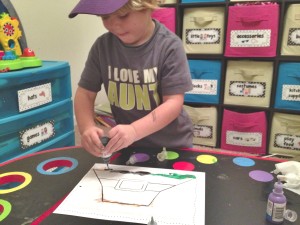 We decided to break out the puff paint and glitter for this one.  We ended up finger-painting the globs of puff paint.  We had fun, and we talked about the Pilgrims. I reminded him of his school's Thanksgiving Feast and the Pilgrims costume to make an association.  At one point I had to hide the "sugar," my one year old's name for glitter, but other than that it was a winner!
Simple, but timely right?