I love to sing.  More than that, I love to sing to kids.  Whether I am singing "This is the way we pick up our toys…"
Or "This is the day the Lord has made…"
Kids seem to be mesmerized by music, and shame on me, but they are so pleasant when they are in a trance. 
Today, I want to help you mesmerize your little one for academic purposes, and maybe even for a quiet car ride on an errand run.
 The cheap-o that I am will warn you that you may want to invest in a binder and sheet protectors for today's activity, but you can technically do without it.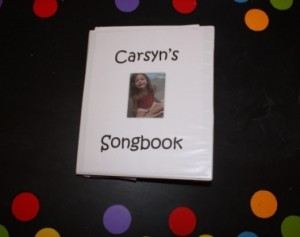 This is a songbook that I made for my sweet little friend Carsyn.  I wanted it to be meaningful because I was filling it with a lot of educational songs too.  So I simply uploaded a picture of her into a word document and picked a fun font  (Kristin ITC).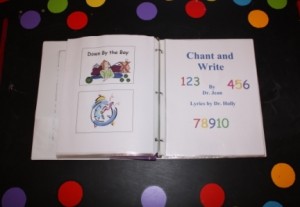 Then I simply picked the songs that I targeted with the skills I wanted to teach her at the time.  The FREE printables for these songs can be found at Kelly's Kindergarten, Kid's Count under School Is Cool Big Books , New Jack Hartmann Big Books, and Dr. Jean Big Books, as well as  Dr. Jean.org.
Print them and put them together in sheet protectors back to back. 
The book will be unique depending on the songs you pick. 
If you are an over-achiever like me, you can download the songs you picked to print and make a CD that goes with the book.  Or find a friend who has a lot of children's songs on their computer and borrow.
 **Sing-along books are great for SO many reasons**
Sing-along books:
Make it easy to follow along with the pictures and words.
Engage and maintain a child's interest.
Help children follow along with print, one word at a time (one-to-one correspondence).
Teach children to read independently and with purpose.
Teach skills through rote memory (just from hearing a "Days of the Week" song over and over a child will memorize and learn the days of the week).
Help kids connect stories with pictures.
 "Carsyn loves her songbook! She reads it all the time. She loves to sing along and read it to her little sister." ~Kasey of Baton Rouge, La
The Starter songbook I made for Carsyn were the following picks:
Alphardy –sing to learn Album by dr jean  (Letter Naming and Sounds Awareness)
Down by the bay – raffi singable songs (Rhyming)
Color farm –sing to learn (Colors and Color Word Recognition)
The Shape Song – Shape-A-Loo song fromTotally Math by dr jean (Shape Identification)
Five Fish – Sing Silly Songs Album by dr jean (Adding On)
Chant and write – totally math Album by dr jean (Number Identification and Formation)
Today is Sunday –dr jean and friends Album (Days of the Week)
The twelve days of school –keep on singing and dancing Album by dr Jean (Ordinal Numbers)