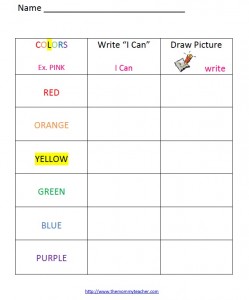 I have so many updates to share, but most require pictures that I haven't had time to take yet. BUT, as I plan weekly activities for my kindergarteners I will be sharing them here…. which means more resources for you at home.
Here is one simple writing activity idea and "I can" printable:
I am teaching the sight words "I can" in my classroom right now, but you can adapt this to whatever you are practicing at home because it is such a simple template.
When your little one is ready to learn words by sight, you will use activities like this to encourage your little one to have fun practicing writing the formation of the letters in the word.  Here your little one would write it in each color and then draw a picture of something he/she can do.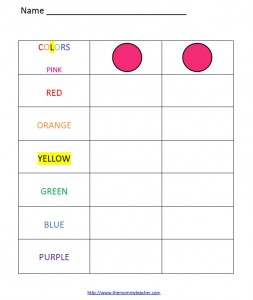 If you have a preschooler, you might work on one simple shape like a circle, letter or number.  If you have a Pre-Kinder you might work on your little one's name.  If you have a Kinder, you might start working on their sight words when the list comes home from school or work on their middle/last name.  You don't have to put it in a word document either….freehand the color words and model the first row for your little one.