If you liked the Tear-ific Artwork activity idea from last week and if you are currently working on letter (or number) recognition, then you will love this activity idea.
Using the letter or number templates I made for an activity book in the past: Alphabet Color Font PDF or Numbers Color Font PDF, you can help your little one manipulate letter and number formation for better memory recall.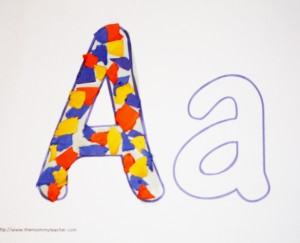 Guide your little one to fill in the outline of the letters and/or numbers with little scraps of paper that he/she has torn piece by piece.  This helps your little one to really take his/her time learning the letter or number formation (how it is formed), as well as develop his/her fine motor skills, dexterity, and spatial skills.
Make a colorful alphabet or counting book or use this activity as a special art activity for the letter of the week.